Racquetball is one of the few games where one can receive a good aerobic workout and have a high energy competitive match with a friend at the same time! It can serve as an alternative to repetitive workouts that may become "boring" after awhile. It also can be a great stress release after a long work day. Racquet sports have been proven to release stress due to the physical and mental nature of the game e.g. mental focus, body coordination, eye/hand control, timing, and repetitive ball striking. And its great fun.
The game began in the late 60's as a spin-off of handball and paddle ball (wooden racquet sport) and now has evolved into its own sport (Olympic Event soon, we hope). At advanced levels, players have been compared to professional level athletes due to speed of the game, agility, and overall athletic demands of the sport. At the pro levels, players can hit the ball 170 mph and matches can last for over 1.5 hours to 2 hours of play. This is like sprinting for 1.5 hours.
Oakwood offers a variety of programs in racquetball including juniors and children instruction, adult instruction, a challenge and partner ladder, and private lessons. There are two premiere viewing courts at Oakwood within the gymnasium.
Please sign up for all the racquetball lessons and/or clinics at Activities, the Front Desk or online at our Member Self-Service Site.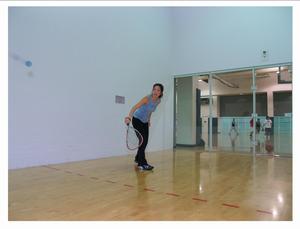 Del Villanueva
Del has been voted "Comittee" Coach of the Year for his work with collegiate racquetball and other general programs, such as Junior Program Director and Club Pro, in 2006 by the United States Olympic Committee. This award is to serve as a testament to his dedication to the Olympic ideals and service to the sport of racquetball, its community and its athletes. He was also voted "Collegiate Coach of the Year" in 2004. Del is currently a Racquetball coach at the University of California, Berkeley.