With today's busy schedules, it's easy to put off starting a fitness regimen. Many of our members are opting to work out with one of our highly qualified personal trainers to hold themselves accountable to come to the gym and to be pushed harder than they would train themselves.
This one-on-one training offers customized routines designed by a skilled fitness professional who works within your limits, while encouraging you to reach your full fitness potential. If you have a specific physical challenge, your trainer can work closely with your physician to develop a program that is safe and gets the results you want. Personalized training programs typically include all the essential components of physical fitness: nutrition, cardiovascular endurance, resistance training and flexibility.
You don't have to be a die-hard fitness enthusiast to benefit from a personal trainer. If you're a beginner, an experienced trainer can demonstrate proper form and technique and give you immediate feedback so that you don't develop bad habits or waste time doing inappropriate exercises. Because it can take a few weeks before you see results from your new regimen, your personal trainer's enthusiasm can strengthen your willpower and help keep you motivated.
Personal Fitness Training Fees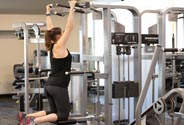 Private Half Hour Sessions:
Single half hour: $50
Five 1/2 hour sessions: $240
Ten 1/2 hour sessions: $460
Twenty 1/2 hour sessions: $860
Private One Hour Sessions:
Single one hour: $80
Five 1 hour sessions: $385
Ten 1 hour sessions: $750
Twenty 1 hour sessions: $1,440
Partner Training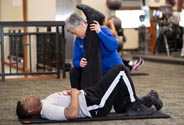 Partner Half Hour Sessions:
Single half hour: $70
Five 1/2 hour sessions: $330
Ten 1/2 hour sessions: $600
Session Packages:
Single one hour session: $110
Five 1 hour sessions: $530
Ten 1 hour sessions: $1,000
Trio Training and Quad training options available! Inquire on the Fitness Floor!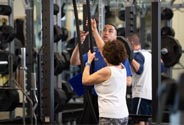 Complimentary Body Composition and Graded Exercise Testing
Body Composition Test
Body composition testing measures the body's ratio of body fat to lean muscle mass. This information is helpful in knowing your risk for disease, such as diabetes and cardiovascular disease. Our body composition tests are quick and minimally invasive.
Graded Exercise Stress Test
Cardio respiratory fitness measures the ability of the heart and lungs to provide oxygen to the body. We measure this in volume. The more volume the better your fitness level. Our test for volume (VO2) takes about 15 minutes and requires a light, steady cardio workout.