Oakwood offers private swim lessons on a year round basis. All private adult and children's lessons are taught in 20 minute sessions.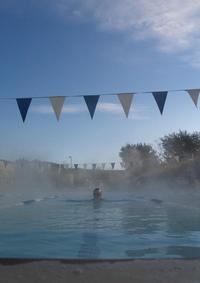 Contact the Activities Desk for the current lesson schedule and availability.
Swim Lesson Packages available! See the Activities Desk for details.
Carrie Roberts
Aquatics Manager and Makos Swim Team Head Coach
As a college athlete, she received a swim scholarship from Evansville University and today, continues to swim with Walnut Creek Master's Program wile staying in-tune with the latest skill developing techniques. As a coach and instructor, she taught at Sherman Swim School and coached for Holy Names High School. As an Aquatics Director, she built the entire aquatics program at Contra Costa Jewish Community Center which involved establishing a new swim team, mommy and me classes, water aerobics as well as lifeguard management. Carrie tops her extensive, yet relevant, experience off with being a former Pre-School Teacher and is also a Certified Personal Trainer.
Luis Cardona
Makos Swim Team Coach
Luis is currently attending Holy Names College with a passion for swimming. He grew up in Pasadena, CA and swam throughout his high school career. Luis has worked as a lifeguard and swim instructor.
Dick Jacobberger
Swim Instructor and Masters Swim Team Coach.
Held numerous national age group records. High School All-American in butterfly and freestyle. Lettered in varsity swimming at Indiana University and Cal. Captain of U.S. Military Swim Team that competed in Pescara, Italy in 1969 against NATO country swim teams. Head Coach Concord Swim Club (Concord, CA) and Aquabears (Lamorinda).
Oakwood Athletic Club Masters Swim Team Coach: 1999 - present.