Oakwood offers private swim lessons on a year round basis. All private adult and children's lessons are taught in 30 minute sessions.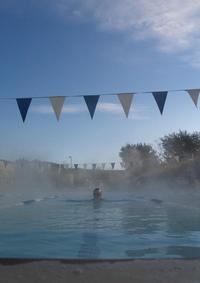 Contact the Activities Desk for the current lesson schedule and availability or check online through the Member Login site.
Allyson Ortner
Allyson started swimming with her club team when she was 10 years old. She then continued to swim up until she graduated college in 2016. Allyson's favorite stroke was freestyle, but her best was butterfly. She has been teaching swim lessons for 8 years and loves teaching young swimmers how to be safe and comfortable in the water! This will be her second summer season with the Oakwood Mako Sharks!
"I can't wait to help introduce young swimmers to the world of swimming." - Allyson
Dick Jacobberger
Swim Instructor and Masters Swim Team Coach.
Held numerous national age group records. High School All-American in butterfly and freestyle. Lettered in varsity swimming at Indiana University and Cal. Captain of U.S. Military Swim Team that competed in Pescara, Italy in 1969 against NATO country swim teams. Head Coach Concord Swim Club (Concord, CA) and Aquabears (Lamorinda).
Oakwood Athletic Club Masters Swim Team Coach: 1999 - present.
Jasmin Flores
Molly Ostrowski