Oakwood's Youth Competitive Swim Program runs year round and is divided into three parts. Fall, Spring and Summer. The programs are designed to help youth develop swimming and competitive skills along the team's philosophy.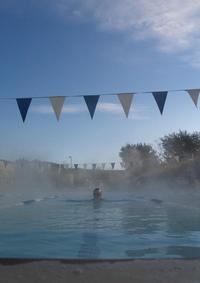 Summer 2022 Clinics now open! Rebuilding to a full program for 2023!
June 13th - June 30th
July 11th - July 28th

Mondays - Thursdays
3:30pm - 4:00pm 8 and under ($175 per session/per child)
4:00pm - 5:00pm 9 & up ($225 per session/per child)

Sign-up available through the member login site!

Oakwood Mako Sharks - for ages 5 and up.
Swimmers 6 and under must be able to swim non-stop, 25 yards each of backstroke and freestyle with side breathing.
Swimmers 7 & 8 years old must be able to swim non-stop, 25 yards each of backstroke and freestyle with side breathing.
Swimmers 9 years and older must be able to swim a minimum of 50 yards, non-stop of backstroke, with an effective kick, and freestyle, with side breathing.
Mini Makos - for ages 5 to 8
The Mini Makos program is designed for children who would like to join the swim team, but do not meet the skill requirements. Children eligible for Mini Makos must be water safe, this includes swimming, lifting their head to breath, continuing to swim, and lifting their head to breath at least once more. Once a participant can perform the minimum swim team requirements as determined by the coach, they are promoted to the swim team. Fees paid to the Mini Makos program are applied to the swim team fees. There is no refund for swimmers who complete the Mini Makos program and elect not to transfer to the Swim Team.
Year Round Programming Information
The Fall Program runs from September through December (Specific dates vary each year). This program provides an opportunity to participate in 3 to 5 local USA Swim Meets and incorporates basic endurance training, pace work and stroke improvement. The fall program will benefit swimmers moving up an age group and those interested in, or considering year-round swimming.
The Spring Program runs from January through March (Specific dates vary each year). This program offers the ideal time for individuals to work on stroke improvement, learning starts & turns, or to review skills. Three 3 week competitive stroke sessions, one each month in January, February and March.
The Summer Program runs from April through August: (Specific dates vary each year). This program offers a competitive summer swim program for all children 5-18 that meet minimum skill requirements. Practices focus on competitive stroke instruction, how to do starts, turns and race tactics. There is a progressive meet schedule, once a week on the average, that includes time trials, dual meets and invitational swim meets.
Our Coaching Philosophy
We feel there are four things that we can do as coaches to help develop our swimmers as individuals. The most important thing is to develop their self image. Staff will continually build the swimmers up; we will be positive and enthusiastic with all team members. We will help the team members to understand the importance of being enthusiastic in everything they do. We will help team members develop a sense of responsibility for what they do. And, we will teach team members how to deal with the ups and downs of swimming competition.
Our goal is to build a solid foundation of swimming skills that can be used throughout their swimming career and beyond. We help each individual learn the basics of good swimming strokes, as well as starts and turns through group practice, individualized instruction, and participation in various levels of competition.
Swim Team members are expected to participate in a minimum of four meets during the summer season. Swim meets provide a good learning experience for the children. It also provides an opportunity for the coaches to evaluate how effective the coaching has been and how the individual and team is progressing.
Here are some of the things we'd like our swimmers to learn, and good ways to learn them in swim meets.
We want our swimmers to learn to compete with good sportsmanship.
Some examples of good sportsmanship include saying "good luck" to others before you swim in your heat, and saying "nice swim" after the swim, thanking the timers, and listening to the coach.
We want the swimmers to learn that the race is a learning experience.
We want the swimmer to tell us about the race and what they learned. We want to train the swimmer to talk to the coach before they race and get a last minute reminder, and after the race, go back to the coach to get immediate feedback.
We want our swimmers to learn to race.
To start, swim and finish properly. We do this by reminding them that the race is made up of three or four parts. For 8 & under they are: 1. Dive start; 2. swim; 3. finish. For 9 & older they are: 1. Dive start; 2. swim; 3. turn, 4. finish. The swimmer has to concentrate on each part as they swim their race. We remind them that we want to swim good strokes as fast as possible with a clean finish. Learning to swim good strokes while swimming fast is a challenge!
We want our swimmers to learn that they must compete within the rules.
We do this by explaining the starting procedures, what a false start is and what the rules of the stroke are in order for them to swim legally. In any good learning situation, disqualifications for a major infraction of the rules will happen and the swimmer must learn from them when they do happen. We want them to find out why they were disqualified and learn what they have to do correctly instead.